COVENTRY AIRPORT AND ITS 'PROPLINER' ASSOCIATIONS
SCHEDULED SERVICES RETURN
1969 would be the year that scheduled airline operations returned to Coventry Airport. Castle Donington based British Midland Airways had announced on November 1 1968 that it would open an office at Coventry in time for the launch of scheduled passenger flights to Jersey in the spring of 1969. Services between Coventry and Jersey were inaugurated by Viscount 702 G-APPX on April 11, and during April and May British Midland also operated numerous passenger charter flights from Coventry to Beauvais and Rotterdam, carrying a total of 8,000 passengers on this six-week long programme. British Midland would remain loyal to Coventry for many subsequent summer season, operating Viscount services to the Channel Islands. Charter flights were also performed, with Viscount 831 G-APNE flying a freight charter from Cologne to Coventry on October 6 1969, no doubt in connection with Coventry's many motor manufacturers.
Two DC-3s also arrived at Coventry during the spring of 1969, with the former Faroe Airways OY-DNC landing on March 8 as N4296, while N15751 (once G-AMPY with Irelfly) appeared on April 5. Together with Beech 18 N15750, these aircraft were expected to fly for an unknown locally based operator, but following a fire on April 15 N4296 was broken up, and DC-3 N15751 was later sold to Intra Airways in Jersey and restored as G-AMPY. She would return to Coventry in later years as part of the great Air Atlantique Dakota fleet. Rather more productive DC-3 activity at Coventry during the spring of 1969 was provided by Skyways DC-3 G-AMWW, which flew a series of charters from Jersey to Coventry between April 28 and May 3. Cheltenham Gold Cup week attracted B.K.S. Air Transport Airspeed Ambassador G-ALZR on a bloodstock charter from and to Dublin on March 19. There were also further visits by Invicta Skymasters, with G-ASPN flying cargo to Gothenburg on April 9, G-ASEN hauling freight to Elmas on September 17, and G-ASPM flying to Stockholm on November 25. British Air Ferries Carvair G-APNH made a welcome return on October 25 when she landed at Coventry inbound from Brindisi.
One of the year's most significant events, though, took place in October when aircraft sales broker Shackleton Aviation moved in from their previous base at Sywell. They opened offices at Coventry Airport and rented hangar space to store many of their second-hand aircraft. Although this company was engaged in the sale of many types of aircraft, there was a definite 'propliner' theme to their adverts, and at the beginning of November they brought three Bristol Britannias to Coventry, with the former Tellair series 324 Britannia G-ARKB arriving from Gatwick on November 4, followed by sistership G-ARKA two days later, and finally former Caledonian series 319 G-AOVA on November 10 1969. Initially all three aircraft were parked in the open at Coventry, but their chances of finding a new buyer were slim taking into account the recent demise of both British Eagle and Transglobe, and the aircraft's lack of freight doors. However, G-AOVA was rushed back into Caledonian service to cover for the provision of extra passenger services over the Christmas holiday period, and she departed from Coventry on December 13 bound for a maintenance check with Aviation Traders at Southend. She returned to storage at Coventry on February 16 1970, her flying career now at an end. Eventually these beautiful airliners were stripped of their Proteus engines and other serviceable components and scrapped at Coventry during 1971 without ever flying again. In later years, Shackleton Aviation would become involved in many interesting 'propliners', with four Austrian Airlines Viscount 837s being flown to Coventry in October 1971 in advance of their onward sale to Colombia. Two former ETPS Viscounts, XR801 and XR802, arrived at Coventry from Boscombe Down on May 18 1972, but failed to find a buyer and were scrapped, as was Donaldson International Britannia 317 G-APNA, which landed at Coventry on May 31 1972. Meanwhile, former Donaldson Britannia 312F G-AOVF, which arrived at Coventry on July 24, was rather more fortunate as she departed for Luton on November 1 to begin a new career with International Aviation Services. Shackletons also handled a number of DC-3s and even Twin Pioneers during their residency at Coventry, and on May 4 1972 took delivery of one aircraft that was not for sale, but for exhibition outside their premises. Former No.204 Squadron Avro Shackleton MR.2C WL751 was delivered to Coventry by an RAF crew from Honington, with Shackleton WL758 acting as crew ferry. Although the Shackleton survived intact for a few years, when Shackletons moved to Hurn in 1973, a buyer could not be found and the aircraft was scrapped in 1975.
Executive Air Engineering continued to overhaul many Doves and Herons during 1970 and 1971, preparing aircraft for Tyler Aviation (later named Progressive Airways) at Norwich, Air Paris and former British United Island Airways aircraft destined for new operators. The company also received a demonstration of the Saunders ST-27 turboprop conversion of the Heron at Coventry on May 18 1970 when CF-XOK-X visited. The company also undertook maintenance of Hawker Siddeley 748s on behalf of the manufacturer, with G-AVRR present in February 1970 after an African sales tour, and G-ATAM after a Maersk Air lease in Denmark as OY-DFS, the latter aircraft arriving on February 18 and departing to Woodford on March 16 on completion of the work. However, with Dove and Heron maintenance work drying up, the company announced in July 1972 that it would be shutting its hangar doors once all current work had been completed.
Airline activity in 1970 was quiet until March 15 when Aer Turas Douglas DC-4 EI-ARS arrived from Dublin with the first racehorses for the Cheltenham Gold Cup Meeting. Further flights from and to Dublin by this aircraft were made daily until March 20. Towards the end of the month, B.K.S. Air Transport Viscount 806 G-AOYL launched a series of day trip flights to Beauvais on March 28 carrying clients of Kays Air Tours. Flights to Rotterdam were also later flown carrying passengers to the Dutch bulb fields, and on May 5 Britannia Airways Britannia 102 G-ANBO was used on a service from Coventry to Rotterdam. Invicta Skymasters continued to visit the airport, with G-ASEN flying a Paris-Coventry-Kiruna service on March 24, G-ASPM making flights to Antwerp and Gothenburg on May 8 and June 18 respectively, and G-ASPN flying a service to Cagliari on June 3.
MIDLAND AIR CARGO LAUNCHES OPERATIONS FROM COVENTRY
Perhaps the most significant airline event of the year was the formation of Midland Air Cargo, which chose Coventry as its base for its Bristol Superfreighter fleet. Altogether four Superfreighters were purchased from British Air Ferries at Lydd, with the first aircraft, G-APAV, arriving at Coventry at the beginning of October 1970. She was joined by G-AMLP on November 12, G-APAU on March 14 1971 and finally by G-ANVR on March 16. The latter aircraft never flew for the airline, and G-AMLP was sold to Lambair in Canada in May 1971, leaving G-APAU and G-APAV to handle the business. Although the aircraft enjoyed a short burst of activity, including the carriage of aero engines for Cambrian Airways, the transport of car components for the Ford Motor Company, and the airlift of many tons of tomatoes from Guernsey, the airline folded in February 1973. Shackleton Aviation offered both aircraft for sale and ferried them to Lasham for storage, but they were scrapped during 1975.
1971 saw few changes to the scenery at Coventry, although Aer Turas Bristol Freighter Mk.31 EI-APC arrived with racehorses on March 14, followed by four flights by DC-4 EI-ARS on March 15, 17, 18 and 19, all in connection with the race meeting at Cheltenham. A shortage of Viscounts led to British Midland chartering equipment from Rousseau Aviation during the 1971 summer season, and on May 30 the Coventry to Jersey passenger schedule was flown by Nord 262 F-BLHV and Hawker Siddeley 748 F-BSRU. An Air Anglia DC-3 (G-ANTD) passed through Coventry on her way from Norwich to Jersey on July 17, and on September 1 1971 Coventry received its first CL-44 visit when Trans Meridian's G-AXUL arrived from Rotterdam. Having uplifted cargo destined for the Woomera Rocket Range, she took off for Stansted and points east.
British Air Ferries resumed regular Carvair operations through Coventry in 1972. Having flown a handful of Guernsey to Coventry freight services in January and February 1972, with G-AOFW flying the first service on January 17, the airline began regular scheduled services from Guernsey and Jersey to Coventry on March 19 1972 when G-ASDC operated the inaugural flight. Subsequently, G-AOFW, G-ASDC and G-AXAI became almost daily visitors to Coventry mainly carrying Channel Islands produce and fresh flowers. Plans were unveiled for the opening of further Carvair services linking Coventry with Le Touquet and Ostend during 1973, but the airline ran into difficulties with the council-run airport during the summer of 1973 when it declined to improve the passenger facilities at the airport. As a result, British Air Ferries withdrew all Carvair operations from Coventry at the end of the summer of 1973. The spring of 1972 also saw Cambrian Airways flying Viscounts on day trips to Beauvais and Rotterdam, in addition to the regular visits from Jersey of British Midland's Viscounts.
NEW NAMES AND ANOTHER CONSTELLATION
Among new airline names to pass through Coventry was Sagittair, which flew a small fleet of Armstrong Whitworth Argosys on freight services from the Channel Islands and ad-hoc charters around Europe. The airline paid its first visit on December 6 1971 when G-APRN flew a freight charter to Bergen, followed by a visit by G-AZHN on January 15 when the Argosy flew cargo to Guernsey. Another Argosy to stage through the airport was EI-AVJ flown by Aer Turas, which flew a bloodstock charter from Dublin on March 12 1972. Alidair made its debut at Coventry on June 29 1972 when Viscount 831 G-ASED carried a party of athletes from Coventry to Graz, returning two days later. Another Alidair Viscount, series 812 G-AVIW, flew a service to Beauvais on October 22. Macedonian Aviation ferried their Southend-based DC-3 G-AMPO to Coventry on January 27 1973 prior to flying a charter to the Isle of Man. This aircraft returned to Coventry on several subsequent occasions, flying charters to Jersey on June 23 1973 and to Belfast on January 26 1974. One other airliner of note during this period was the Aer Turas Douglas DC-7CF EI-AWG, which participated in the now well-established Cheltenham Gold Cup airlift, staging through Coventry on March 12 1973.
But the real highlight of this period was the arrival of Lanzair Lockheed L-749A Constellation N7777G, which touched down at Baginton on three engines on January 18 1974 in search of maintenance. During the course of the ensuing weeks, engineering work was carried out on the no.1 Wright Cyclone together with certain other work, before the aircraft departed late on the evening of March 7 1974 bound for Dublin. During her time at Coventry, this former KLM freighter had become a popular landmark, and the author, like many others, travelled once again to this unique airport for a sight of this magnificent aircraft. Once again visiting the control tower, the expression on the controller's face was unforgettable, and having exclaimed that, "If I had charged £1 for every time I had allowed someone on the airport to photograph the Constellation, I would be a rich man", he gracefully gave his permission for me to once again tread the hallowed ground of Coventry Airport. Today, this same Constellation as preserved in sixties-style Trans World Airlines livery as part of the Science Museum collection at Wroughton.
This is probably a suitable point to conclude my memories of Coventry as a true 'propliner' airport, but rest assured the airport hosted many glorious propeller-powered aircraft in subsequent years before becoming the base of Europe's greatest piston-engined airline, Air Atlantique. Their arrival brought Dakotas galore, Douglas DC-6A freighters, a Twin Pioneer, Bristol Freighter, Rapides, Doves and many other wonderful aircraft. It would be very sad if the closure of Coventry Airport brought about the dispersal of this historic fleet of aircraft, and at the beginning of March 2010 there were hopes that a new company would shortly take over the operation of the airport, and allow commercial flying to resume.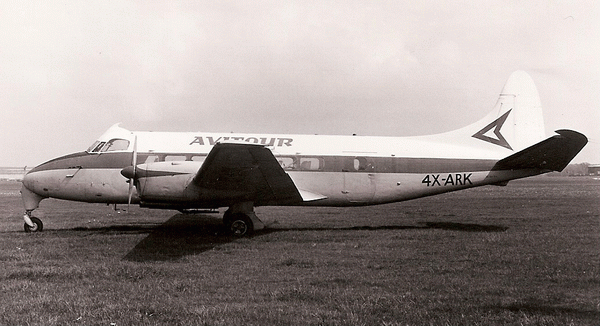 One of many Herons to visit Coventry during the sixties for maintenance with Executive Aircraft Engineering, this Avitour Heron 1B arrived from Israel in 1966.

'The Official
Website of
Propliner Aviation
Magazine'


The International review of
classic piston-engined and
turboprop transport aircraft