COVENTRY AIRPORT AND ITS 'PROPLINER' ASSOCIATIONS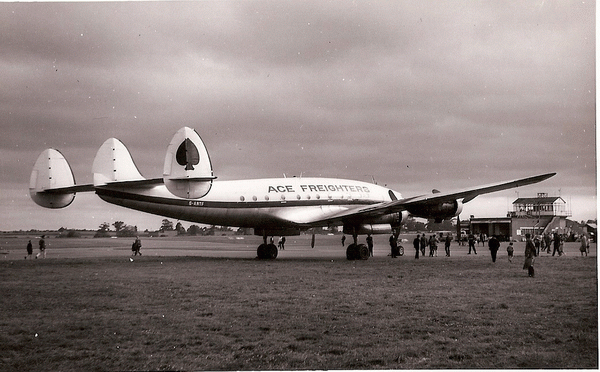 ACE Freighters Lockheed L-749A Constellation G-ANTF attracting the gaze of onlookers at Coventry Airport during an early visit in 1964.
When Coventry Airport closed down to flying operations on December 8 2009, it was described by the business editor of the "Birmingham Post" as the final nail in the airport's coffin. One certainly hopes that this pessimistic statement is not the case, however, as Coventry Airport boasts a richer 'propliner' heritage than many more major airports in the UK.
It all began in 1935 when 231 acres of land at Baginton were leased to the Coventry-Warwicks Aero Club for use as an airfield. Layout of the new facility began in the autumn, and in May 1936 the first trial landings were made by a club aircraft. During the latter part of the decade, the area was increased to 387 acres, whilst an adjacent site was leased to Armstrong Whitworth Aircraft, leading to the construction and test flying of countless Whitley and Lancaster bombers from Baginton. The airfield served as an operational fighter airfield during the Second World War, initially hosting No.308 (Polish) Squadron with their Hawker Hurricanes from September 1940 onwards. After the war, production and test flying of Meteor, Sea Hawk, Javelin and Hunter jets preceded the production of Armstrong Whitworth's own Argosy freighter, by which time a 5,300' long hard runway (06/24) had been laid. Baginton was also home to the two revolutionary turboprop-powered Apollo airliners built by Armstrong Whitworth and first flown on April 10 1949.
FIRST SCHEDULES LAUNCHED TO JERSEY
For 'propliner' enthusiasts after the war, the airfield saw occasional visits by charter aircraft, notably Rapides and Doves undertaking ad-hoc flights to the Channel Islands, northern France and the Isle of Man. With nearby Birmingham (Elmdon) Airport stealing much of the limelight, and being well served by British European Airways, Coventry stood little chance to compete commercially, and instead became a popular general aviation airfield. However, Don Everall Aviation opened a summer only scheduled service linking Coventry with Jersey in May 1954 using Dragon Rapides. Douglas DC-3s were introduced for the 1957 summer season, and at the height of the summer these aircraft flew three times weekly to Jersey carrying Coventry's holidaymakers. Vickers Vikings were introduced for the 1960 summer season, with flights to Jersey now taking place on Friday evenings and Saturdays.
First based 'propliner' of any size was the Orion Airways Vickers Viking G-AHOS, which moved in from her initial base of Blackbushe on October 1 1957. Although Orion established maintenance facilities in one of the hangars at Coventry and operated occasional charters from the airport, most commercial work still originated from Blackbushe. However, the airline clearly had great plans for Coventry, and licence applications were lodged to open scheduled passenger services from Coventry to Jersey and Ostend, and all-freight services from Coventry to Antwerp, Düsseldorf and Rotterdam, but none of these routes were ever opened.
Take-over of the Don Everall airline operation by Air Safaris saw a new name appearing in the airport's terminal building when, on May 27 1961, Viking G-AJBX in the smart new livery of Air Safaris re-opened the Coventry to Jersey scheduled service. Air Safaris had also earlier purchased the Vikings of Orion Airways. However, any euphoria that the new airline might bring expansion to the airport was quickly dimmed when Air Safaris ceased operations early in November 1961 after running into financial difficulties. The final schedules between Coventry and Jersey had been flown at the end of September, and with the closure of the airline, Coventry lost its only scheduled operation.
NORTH STAR STORAGE FACILITY
'Propliner' activity did not cease altogether with the loss of the Jersey schedule, though, as Baginton was soon invaded by a fleet of four-engined airliners. Overseas Aviation had collapsed in August 1961, grounding a huge fleet of Canadair C-4 Argonaut and DC-4M North Star airliners at Gatwick. Famous British entrepreneur Mike Keegan, with financial support provided by business man John Gaul, bought the entire North Star fleet on October 13 1961, for onward sale or lease via Keegan Aviation and Trans World Leasing. Gatwick was an expensive airport to park these aircraft, however, and Keegan soon found a cheaper parking option at Coventry Airport, leading to Baginton's busiest day ever for commercial aircraft arrivals! On October 21 five North Stars were ferried from Gatwick to Coventry by Keegan crews. Keegan's Dove G-AREG acted as a shuttle ferrying the crews between the two airports, with North Star CF-TFV being the first to land at Coventry at 11.30 GMT, hotly pursued minutes later by CF-TFT, and CF-TFO thirty minutes adrift of the first two aircraft. The Dove then returned the crews to Gatwick, from where CF-TFL and CF-TFM followed to Coventry during the afternoon. Four days later, CF-TFK completed her ferry flight to Coventry, followed by CF-TFQ on October 26 and CF-TFU on October 31, making a grand total of eight North Stars parked near the perimeter fence at Baginton.
For a while these aircraft remained a part of the scenery at Baginton whilst Keegan's salesmen busied themselves trying to place them with suitable customers. In January 1962 the first signs of rejuvenation for the fleet began to emerge when North Star CF-TFE arrived from storage at Panshanger on January 14, temporarily boosting the Coventry fleet to nine aircraft. Keegan Aviation had sold a number of these aircraft to LEBCA in Venezuela, and on January 27 CF-TFE departed on delivery via Prestwick, later becoming YV-C-LBU. She was followed by CF-TFJ and CF-TFQ. Meanwhile, of the other Baginton based North Stars, CF-TFK, CF-TFO and CF-TFT were broken up without leaving the airport, and CF-TFL was sold to T W Smith Leasing as N8722R later in 1962, and CF-TFM to a mysterious gentleman named D Woolley in November 1963. This latter aircraft became notorious for some of its subsequent escapades, and having departed Coventry for Newcastle on November 22 1963, she became the subject of a High Court order on October 1 1964 prior to eventually leaving Newcastle carrying both Canadian and Panamanian marks (as HP-925) bound for Limburg in Holland. She became involved in various arms flights to destinations in West Africa prior to one final daring escapade when, carrying the fictitious marks I-ACOA, she crashed near Garoua in the Cameroons on October 11 1966 while carrying machine guns from Rotterdam bound for an unknown African destination having taken a rather circuitous route, no doubt devised to confuse the many authorities interested in her activities.
VEHICLE FERRY SERVICES AND ARRIVAL OF ACE FREIGHTERS
Scheduled services eventually returned to Coventry in the summer of 1964 when British United Air Ferries chose the airport as its Midlands hub for new vehicle ferry routes to Europe. Initially, the company operated Bristol Superfreighter services to Calais, and these were later expanded to take in Ostend and Le Touquet, with both Superfreighters and Aviation Traders Carvairs deployed on the routes. By the summer of 1966, Carvairs were flying twice weekly to Ostend and Le Touquet, and four times weekly to Calais. Intended to attract motorists from the Midlands and the north of England who did not wish to make the long road journey to Southend, Lydd or Southampton, these flights failed to become profitable, and were abandoned in the winter of 1966.
For me, Coventry Airport really came alive on July 31 1964 when Lockheed L-749A Constellation G-ANTF flown by the legendary airline ACE Freighters landed. She spent two days at Coventry undergoing maintenance before leaving for her operational base at Gatwick on August 2. ACE Freighters subsequently established a maintenance base at Coventry and formed an associate company named Midland Aeronautical Engineering, which would take over one of the hangars. Initially the sight of an ACE Freighters Constellation or Skymaster at Coventry was a rarity, but early in 1965 the first of four former South African Airways Constellations arrived following their purchase by ACE, with G-ASYS landing at Baginton on January 26. She was followed by G-ASYT on February 22, and by G-ASYF a month later, the latter aircraft still sport Trek Airways colours. The summer of 1965 saw a further three L-749A Constellations joining the ACE Freighters fleet, all former BOAC examples, they comprised G-ALAK, G-ALAL and G-ANUR.
ACE Freighters' fleet now consisted of four operational Constellations, four stored Constellations (three at Coventry and one at Woensdrecht) and two Douglas Skymasters (G-APEZ & G-ASEN). They became regular visitors to Coventry during 1965 and 1966, although most charters originated at Gatwick and Lyneham. A national dock strike in the summer of 1966 saw the fleet under great pressure performing all their normal tasks in addition to extra flights across the Irish Sea carrying cargo between Liverpool and Belfast. One of the former South African Constellations, G-ASYF, left Coventry on January 5 1966 bound for Renfrew and later Prestwick, where she underwent a relaxed overhaul with Scottish Aviation. Retaining her passenger interior, she was placed into service with a subsidiary named Ace Scotland on July 16 carrying holidaymakers from Glasgow to a handful of Mediterranean resorts.
Supporting this busy fleet led to the engineering facilities at Coventry being well used, with the Constellations regularly arriving for routine maintenance. Skymaster operations, however, ended in April 1966 when G-APEZ was retired at Coventry, and G-ASEN sold to Invicta Airways at Manston. The summer of 1966 seemed to be a buoyant time for the young airline, but the pressure of the dock strike and the expensive overhaul of the passenger Constellation had stretched the airline's resources to the limit. By September, the fleet was running out of flying hours, and with G-ANTF grounded at Coventry after suffering damage in an emergency landing in March 1966 at Aden, the decision was taken to stop flying. Britain's last Constellation operator silenced its last Wright Cyclones on September 14 1966 when G-ASYF touched down at Coventry after a ferry flight from Gatwick.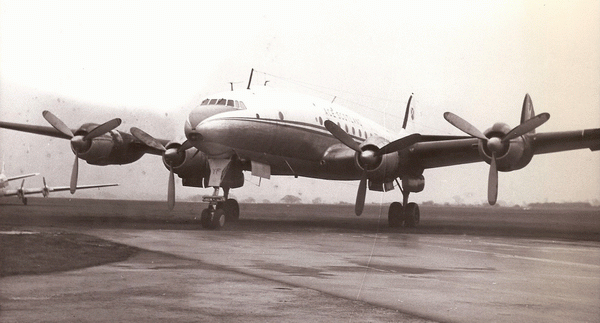 Britain's last passenger carrying Constellation, ACE Scotland L-749 G-ASYF on the corner of Coventry's main apron in November 1966.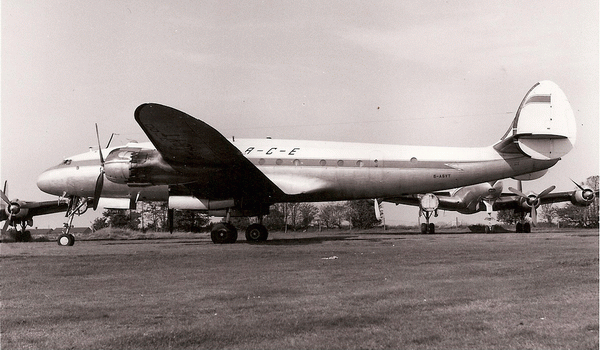 Former South African Airways L-749A Constellation G-ASYT in company with other examples at Coventry in 1965. (Ian MacFarlane)
MEMORABLE VISIT TO COVENTRY
A creditors' meeting followed on September 23, when it was agreed to place ACE Freighters and Ace Scotland into liquidation. Shortly afterwards a notice appeared in the classified advertisements section of "Flight International" offering the entire fleet of Constellations for sale. All the aircraft were lying in store at Coventry, and for the author this proved to be too great an opportunity to miss. The subsequent visit to Baginton Airport, Coventry, on a grim, damp and dreary November Saturday, has remained a vivid, colourful memory for well over forty years, and certainly inspired a fascination both for the beautiful Constellation and for Coventry Airport.
Under leaden skies, an excited teenager and his long-suffering father stood forlornly at the gate alongside the control tower gazing across the main apron, where parked on the very edge could be seen Constellations G-ALAL and G-ASYF, and a gaggle of Doves and Herons. And then a very strange thing happened. An old Standard Vanguard saloon made its stately way across the apron and drew up in front of the gate. The driver wound down his window and asked if we would like to wander on to the airfield for a closer look at these dormant giants. This totally unexpected invitation needed no repeating, and in an instant we were marching across the apron in the direction of the Constellations. As we strode purposefully on our way, a Dove (G-AJPR) could be seen undertaking circuit's from the airport's main runway, whilst in and around the hangars could be found a miscellany of Doves and Herons undergoing maintenance in the hands of locally based Executive Air Engineering. Amongst the examples present were Emerald Airways Heron 1s G-ALZL and G-AOZN, Avitour Heron 2 4X-ARJ, Sudan Airways Dove ST-AAC, Eyjaflug Dove TF-EVM and Heron 2 G-ASUU. But it was the ACE Freighters fleet that deserved a closer inspection, with Constellation G-ASYT found devoid of engines on the ridge behind the hangars in company with engineless Skymaster G-APEZ, whilst Constellation G-ALAK sat immediately behind the hangar in which G-ANTF was undergoing overhaul. Constellation G-ASYT was scrapped weeks later, but Skymaster G-APEZ would linger until finally broken up at Coventry on April 27 1969.
Three of the Constellations would later leave Coventry on trans-Atlantic ferry flights, with G-ALAL leading the procession on April 22 1967, followed by G-ASYF on June 23 and finally G-ALAK on January 15 1968. Earlier, another former ACE Constellation which had returned to her lessor following the ACE collapse, G-ANUR arrived at Coventry from Luton on March 4 1967. Following preparation for her trans-Atlantic ferry flight, she departed to Shannon on March 18. These departures left Coventry with just one Constellation, G-ANTF, now fully overhauled and eager to begin a new airline career. But her ambition to fly again was thwarted forever on February 1 1970 when a mysterious fire destroyed this once iconic member of the BOAC Constellation fleet. Coventry had not seen her last Constellation, as time would tell.
The demise of ACE Freighters and the closure of the British United Air Ferries vehicle ferry routes cast a gloom over the airport during the winter of 1966. Although essentially now a general aviation airfield, Coventry now became a thriving Heron and Dove overhaul centre thanks to the efforts of Executive Air Engineering. Apart from numerous executive Doves and Herons undergoing maintenance, the hangar often looked after Falckair Herons, with all major overhauls and maintenance of these aircraft now performed at Coventry. 1967 seems to have been a peak year with 58 Doves and Herons receiving Executive Air Engineering treatment, including Herons for Bristow Helicopters in Nigeria, for Air Paris at Orly and even an early production Heron 1B for Belgian airline SABENA. The airport also saw the arrival of three former RAF Ansons (G-AVCK, G-AVEV & G-AVIJ) early in 1967, although none of these aircraft would fly commercially. G-AVEV was scrapped at Coventry days after her arrival on February 10, while the other two Ansons fled to Halfpenny Green later in the year. Former British Westpoint "Pionair" DC-3 G-ALYF arrived for storage in the year, and was later flown to Prestwick, where she was scrapped.
Commercial activity in 1967 was limited, though, with only the passage of BUAF Bristol Superfreighter G-AMLP on February 3, and the charter of British Midland C-4 Argonaut G-ALHS to Rotterdam on September 15 being notable. Compagnie Air Transport sent Bristol Superfreighter F-BKBG to Coventry from Beauvais on October 12 on the first of five Superfreighter charters to the airport, with the final flight on October 24 being conducted by F-BKBI.
Heron and Dove overhaul work continued apace throughout 1968, and in addition to the Falckair examples, several Herons were prepared for Prinair in Puerto Rico, two for Channel Airways at Southend, and one aircraft for Cimber Air in Denmark. Among a handful of charter flights during the year, Superfreighter G-AMLP visited again on January 4, while on July 17 G-ASPN flew a freight charter from Coventry to Zurich. Former ACE Freighters Skymaster G-ASEN returned to Coventry on December 3, flying an Invicta Airways freight service to Halmstad. Early in the new year, another Invicta Skymaster, G-ASPM, operated a charter from Coventry to Zurich on January 21 1969, returning again two days later.

'The Official
Website of
Propliner Aviation
Magazine'


The International review of
classic piston-engined and
turboprop transport aircraft