DAN-AIR'S SEARCH FOR A DC-3 REPLACEMENT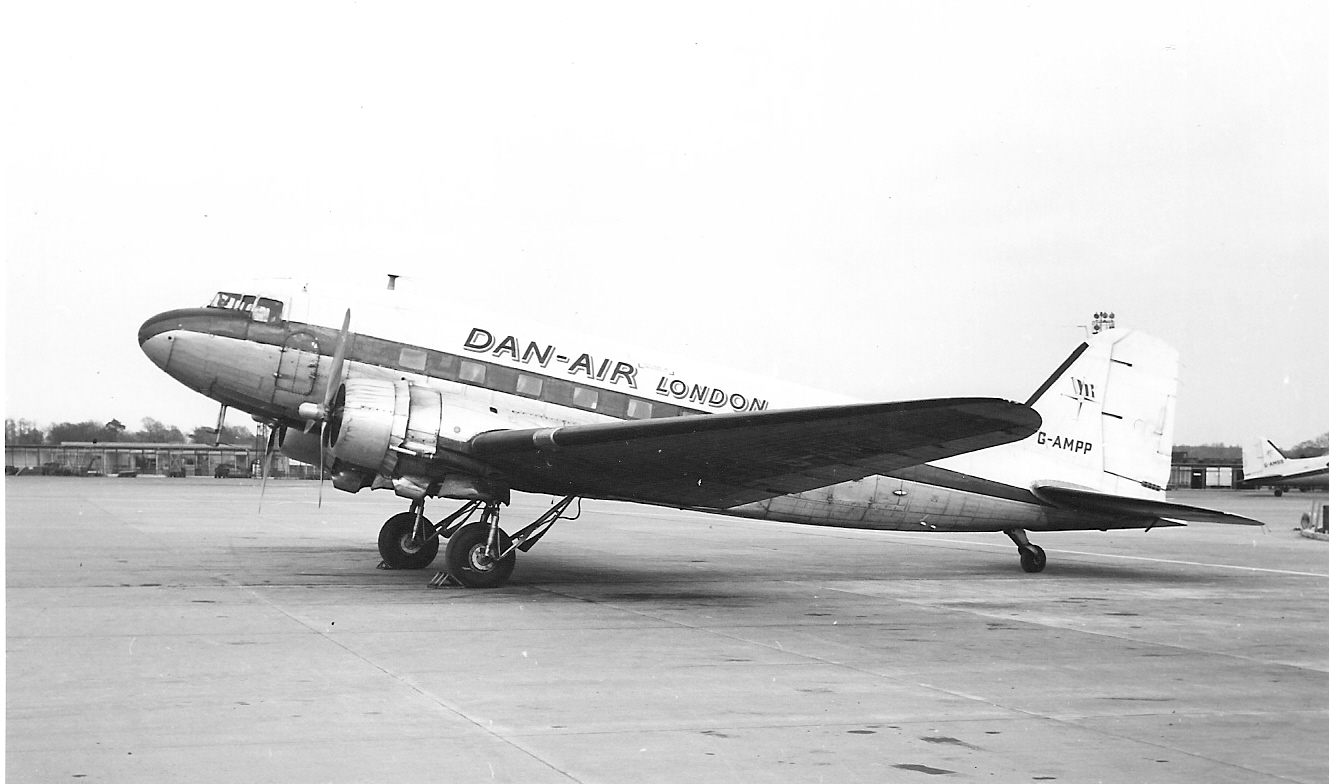 Douglas DC-3 G-AMPP resplendent in full Dan-Air livery at Gatwick circa 1963. (Peter Keating)
For decades airlines the world over have sought the ideal replacement for the ubiquitous Douglas DC-3. Throughout the fifties and sixties, countless airlines were faced with the dilemma of how to upgrade their DC-3 fleets, taking into account cost, performance, capacity, reliability and all the other issues relevant to the successful introduction of a new type. Most chose Convairliners or early turboprop types such as the Friendship, Avro 748 or Herald, but one airline here in England in the late sixties was not entirely convinced that the routes upon which its last DC-3 flew, would actually support any of the new breed of Rolls-Royce Dart-powered airliners. This led to the airline undertaking a comprehensive feasibility study into the various types on offer, with the choice eventually falling to a rank outsider.
MIKE PAPA PAPA'S TERRITORY
Famous as the world's leading operator of Comet jet airliners, the last airline to fly the enchanting Airspeed Ambassador, and owner of 'propliners' as diverse as Yorks, Herons, Bristol Freighters and Doves, Dan-Air Services was one of Britain's most charismatic independents. While the Comet fleet carved a remarkable chapter in the annals of British civil aviation, the airline's initial operations were rather more modest, and came about as a result of the airline's parent company, Davies & Newman, taking a DC-3 in settlement of a debt. Four DC-3s were eventually flown by Dan-Air, but by the end of the sixties just one example remained in service - G-AMPP (c/n 26717) based at Lulsgate Airport, Bristol, flying a domestic scheduled service to Newcastle via Cardiff and Liverpool. Flown on weekdays, this route had been in operation for many years, and loads had gradually improved as the service became established. During the summer of 1969, in an attempt to further develop the network, the DC-3 was deployed on the Bristol-Cardiff-Liverpool section of the network, whilst Ambassadors flew connecting services from Newcastle and Teesside, together with an international route to Amsterdam from Liverpool. However, the service from Bristol and Cardiff to Liverpool was only flown on three days each week (Mondays, Wednesdays and Fridays), and great difficulty was experienced in generating sufficient loads to make these routes viable. Meanwhile, the DC-3 was becoming increasingly expensive to operate and was due for a major overhaul in 1970. Thus, Dan-Air decided to carry out an evaluation of the various types available to replace the DC-3 during the summer of 1969.
Having discounted second-hand Viscounts, Heralds or 748s due to their size and cost, Dan-Air narrowed the field down to perhaps three types - the Beech 99, Handley Page Jetstream 1, and DHC-6 Twin Otter, with two others on the reserve list in the shape of the Nord 262 and Saunders ST-27. A remarkably varied selection of airliners, with only the Jetstream holding British certification. But financial troubles at Handley Page meant that airlines were reluctant to commit themselves to an aircraft that might not have the benefit of long term customer support. All the other contenders, though, demanded costly certification programmes, and for Dan-Air this would not be an easy decision.
EVALUATION TAKES PLACE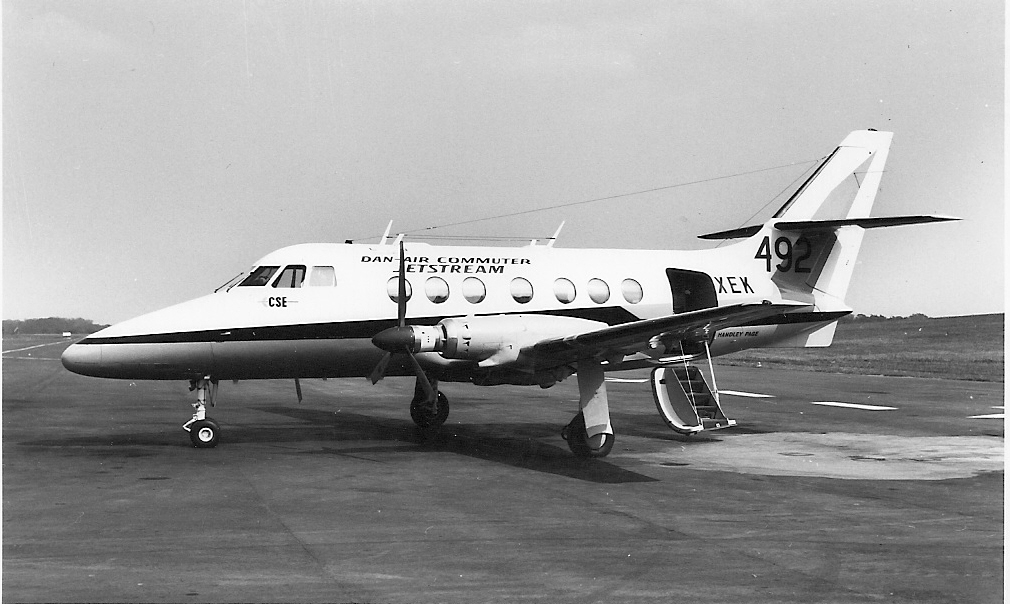 Handley Page Jetstream 1 G-AXEK at Newcastle on June 12 1969 on completion of her demonstration to Dan-Air. (Ian MacFarlane)
Three of the types under consideration were put through their paces on the Dan-Air network. First to come under the spotlight was Beech 99 N949K (c/n U-36) supplied by Eagle Flying Services at Leavesden. Her demonstration took place on May 27 1969 when she flew to Dan-Air's West Country base at Lulsgate to begin a day of testing by Dan-Air. This began with the short flight across the Bristol Channel to Cardiff Airport, where she touched down at 1104 GMT. Ten minutes later she was airborne again heading north to Liverpool, where she touched down at 1146. The Beech 99 then conducted a series of local flights for the benefit of Dan-Air executives and flight crews, before departing for her home base at Leavesden shortly after five o'clock in the afternoon. On the next day, the Beech 99 gave a demonstration at Luton Airport, while on May 29 she spent the day with Channel Airways at Southend, hopeful of replacing their fleet of Herons.
Second candidate for evaluation by Dan-Air was Jetstream 1 demonstrator G-AXEK (c/n 203). Operated by CSE Aviation at Oxford (Kidlington), this aircraft was given Dan-Air titling for the day, and once again she began by flying to Lulsgate Airport, arriving on the morning of June 12 1969. Departing at midday, she flew to Cardiff, landing at 1211 local time, took off again at 1224, and arrived at Speke Airport, Liverpool, at 1301. Here she spent two hours on the ground prior to continuing the journey north to Newcastle, where she arrived shortly before four o'clock to conclude her day with Dan-Air.
Twin Otter CF-WTE (c/n 96) was the next aircraft competing in the Dan-Air challenge. She also began her inspection at Lulsgate Airport, on the morning of July 1 1969, and after making a brief stop at Cardiff, flew on to Liverpool. Of the three aircraft, she was the slowest on the Cardiff to Liverpool route, taking 51 minutes to complete the flight as opposed to the Jetstream's 37 minutes.
All three aircraft had performed much as expected, and the sleek Jetstream with its 19-seat capacity, comfortable pressurised cabin and impressive performance won the day. However, due to the precarious financial situation at Handley Page, Dan-Air chose to initially lease one aircraft, with the intention of purchasing it outright at a later date once the future of Handley Page was secure. With the DC-3 scheduled for retirement at the end of the winter timetable in March 1970, it was planned to take delivery of the Jetstream during January in order that crew training and route familiarisation could be undertaken.
But, as in the case of so many DC-3 replacement programmes, the purchase of a successor went far from smoothly. Although production of Jetstreams continued apace at Radlett, with financial backing coming from American sources, by January 1970 Dan-Air's aircraft was still in the factory when production ceased. As a result Dan-Air had to look for an alternative, and having already ruled out the other original contenders, now looked elsewhere. It seems likely that Dan-Air had planned for this contingency, as by the end of January it had revealed its decision.
ADDING A LITTLE SPICE TO THE AIRLINE WORLD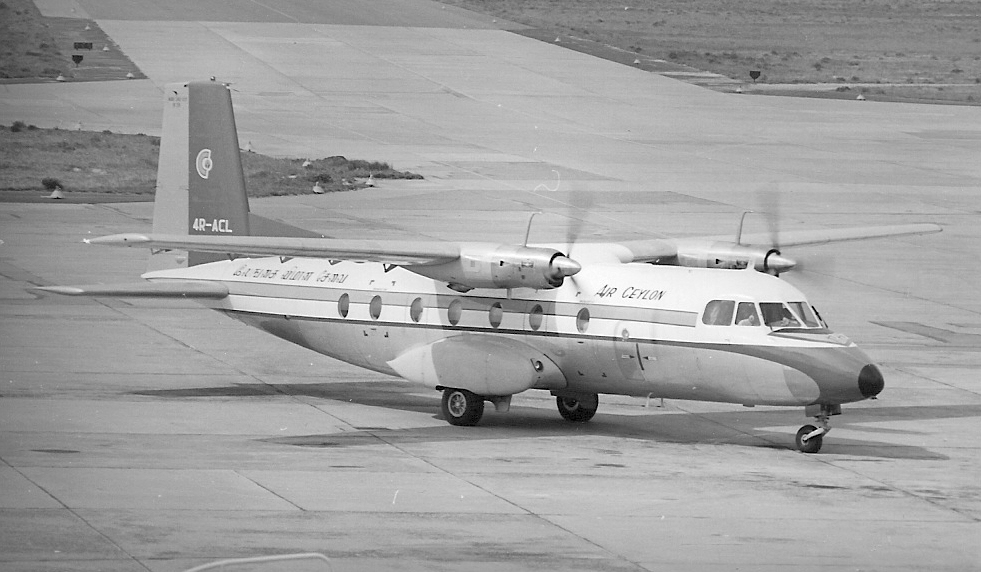 Nord 262A 4R-ACL during her service with Air Ceylon. (Aviation Photo News)
As a result of the Handley Page collapse, Dan-Air brought a true Gallic flavour to Britain's rather staid commercial scene for the first time ever. In a surprise move, the airline entered into a contract with Nord Aviation in France for the supply of one Nord 262A 'Frégate' airliner fully certified to ARB requirements on the British register. 4R-ACL (c/n 29), a lone example flown by Air Ceylon since March 1967, was bought and returned to France for overhaul and modification to British civil airworthiness requirements.
This was a bold move taking into account that this very French product was also powered by two engines that were entirely unfamiliar in the UK - the Turboméca Bastan VI rated at 1,080 eshp. Nevertheless, Dan-Air went ahead with the purchase and Nord Aviation developed a special version groomed around ARB requirements. Now registered F-WNDD, the aircraft was flown to Melun-Villaroche and here Nord Aviation fitted new wingtips to the aircraft similar to those of the later 'C' version in order to make the stall more docile, while in the cockpit the aircraft received a stick shaker and various changes were made to the central warning panel with the provision of colour-coded alarms. Flight testing took place during June 1970, with the aircraft being awarded an interim C of A on June 17 1970. One week later already resplendent in the airline's red, black and white livery, she was registered to Dan-Air Services as G-AYFR, and was now ready for delivery.
G-AYFR was delivered from Melun to Gatwick Airport on the afternoon of July 1 1970. Her arrival marked the historic handover of the first ever wholly French built airliner, fully certificated to ARB standards, to serve with a British airline (Silver City Airways had operated a Bréguet Deux Ponts for a short while in 1953 under French registry). Prior to her introduction into service, the Nord 262 would need to undertake many hours of route proving and crew training. This began at nine o'clock precisely on the morning of July 3 when G-AYFR lifted off from Gatwick and headed north for Newcastle. Introduction of the new type would see Dan-Air closing its regional base at Bristol, and transferring the base to Newcastle, which would now become a hub for the airline's scheduled operations. Two hours were spent on the ground at Newcastle, and this was followed by the aircraft making a familiarisation and crew training sortie over the airline's existing DC-3 route, which during 1970 was as follows - Newcastle-Liverpool-Cardiff-Bristol - before flying north to Manchester and Newcastle, and then returning to Gatwick for a night stop.

'The Official
Website of
Propliner Aviation
Magazine'


The International review of
classic piston-engined and
turboprop transport aircraft