THE ADVENTURES OF FALCON'S LONE VIKING
Founded by the charismatic Captain Marian Kozubski, Falcon Airways was registered as an airline company on December 3 1958 "to acquire the business of airline operators carried on by Independent Air Travel at Bournemouth Airport." Rising in the aftermath of Independent's tragic and highly controversial Viking crash at Southall months earlier, Falcon's birth was masterminded by the exuberant Kozubski, who was keen to retain the lucrative inclusive tour (IT) charter contracts that had been won during Independent's rise to fame.
While Independent would fly on into 1959 under the guidance of a new management team, Kozubski acquired Vickers 614 Viking 1 G-AHPG (c/n 139) from the sizeable fleet amassed by Independent. It seems likely that Kozubski was given the Viking in exchange for his shareholding in Independent, and after overhaul at Hurn she was rolled out in March 1959 resplendent in Falcon's smart new livery. She was test flown by Captain Steel on the afternoon of March 19, with two separate test flights being made. Another 50 minute long local flight from Hurn followed on the next day, together with a short 15 minute sortie on March 24. Delivery of the Viking took place on the evening of March 26 when Captain Palmer flew G-AHPG from Hurn to Blackbushe, from where she would undertake the bulk of the first season's flying.
While the early season would see passenger charters being flown from Blackbushe to mainland European destinations including Paris, Düsseldorf, Frankfurt, Copenhagen, Malmö and Zurich, the peak of the summer season would see resort airports such as Pisa, Treviso, Valencia, Palma, Perpignan, Nice, Basle, Munich and Rimini filling the airliner's well-thumbed log book.
Although most work originated at Blackbushe, G-AHPG did undertake a number of charters from Hurn and elsewhere. She ferried from Blackbushe to Hurn on the afternoon of April 10 1959 prior to Captain Kozubski flying a Hurn-Le Bourget-Zurich-Hurn charter on the next day. This was followed by a round trip between Hurn and Düsseldorf on April 12, before the Viking flew on to Copenhagen on April 13. The latter airport would become a familiar destination for the Viking during the ensuing months, and late on May 12 Captain Bellamy brought 'PG into Hurn from Le Bourget. After some routine maintenance, she departed to Blackbushe three days later. With two 78-seat Hermes joining the Falcon fleet for the summer season, the 36-seat Viking was relegated to a supporting role undertaking ad-hoc charter flights or contract holiday charters when loads were light. Falcon's first summer season proved uneventful, with the Viking operating reliably throughout.
Following the traditional quiet winter period, Falcon entered its second summer season still armed with the two Hermes and single Viking. G-AHPG would visit new airports during the year, and on Wednesday March 30 1960 she made her debut at Gatwick when she ferried inbound from Blackbushe prior to flying a charter to Malmö. Returning from Malmö to Southend that evening, she encountered adverse weather conditions, forcing her to divert to Gatwick, where she touched down at 2321. She then performed another Gatwick to Malmö charter during the very early hours of March 31, and returned to Gatwick again on April 18 when she flew two passenger charters from Paris before leaving for Copenhagen on April 19. In between these missions, G-AHPG undertook a Berlin to Southend charter on behalf of Overseas Aviation on the evening of April 13 commanded by Captain Bellamy. Surprisingly, an hour long training sortie then took place at midnight, before peace was restored and the Viking departed to Madrid during the early hours of April 14.
On the evening of Friday May 6 G-AHPG touched down at Southend following a positioning flight from Copenhagen under the command of Captain Zeiher. On the next day the Viking launched Falcon's summer season IT charter programme from Southend, flying a full load of 36 passengers to Rimini via Nice before returning empty to Southend. Sunday May 8 would see the Viking carrying another full load on the inaugural Southend to Munich service, on this occasion commanded by Captain Wilkinson. The Viking's next visit to Southend occurred on Wednesday May 11 when she arrived from Blackbushe to uplift a three and a half ton consignment of machinery and electrical goods bound for Malmö. Returning to Southend on Friday May 13, G-AHPG flew the Southend to Rimini holiday service on the evening of Saturday May 14, on this occasion staging via Lyon for fuel, and then the Southend to Munich service on Sunday May 15. Captains Zeiher and Nicol guided G-AHPG on the following weekend's holiday flights through Southend, with the aircraft then returning to Gatwick from Turin on May 22. Following this flight the Viking returned to her base at Blackbushe on the next morning for her final series of flights from this famous airport.
With Blackbushe due to close at midnight on May 31 1960, G-AHPG bid farewell to this airport at six o'clock on the afternoon of May 29, when she departed en-route for Hurn. She remained at Hurn for three days, taking off on the evening of June 1 bound for her new operational base at Gatwick Airport in the hands of Captain Wilkinson. Her first official charter from the new airport took place on the morning of June 2 when she flew a round trip passenger charter to Basle.
It would be a busy summer for Kozubski's lone Viking. Her first weekend of operations at Gatwick would see her flying passengers to Rome (via Lyon) and Rimini on Friday June 3, followed by flights to Munich and Klagenfurt on Saturday June 4, and to Nice on Sunday June 5. Another charter to Basle took place on June 9, and on June 10 G-AHPG enjoyed a particularly long day, soaking up the sunshine of North Africa with a flight from Gatwick to Tangier. Outbound the loaded Viking stopped off at Madrid for fuel, but inbound the empty aircraft was able to make the flight direct to Gatwick. Following another charter to Basle on June 11, the Viking flew to Manchester, uplifting passengers there destined for Munich and Treviso. Thereafter, the Viking visited Manchester on many occasions, either operating holiday charters in its own right, or providing a feeder service with passengers joining Falcon's Hermes fleet. Flights from Southend had now given way to the Gatwick operation.
The remainder of June saw departures from Gatwick to Valencia, Perpignan, Palma (via Lyon), Bordeaux, Munich, Klagenfurt and Düsseldorf, while from Manchester the Viking made flights to Tarbes and Palma (via Lyon). Ad-hoc charters included the carriage of 35 passengers from Southend to Turin on the evening of June 19 in company with Orion Viking G-APAT, with both Vikings returning to Southend during the early hours of June 20. G-AHPG then flew on to Hurn for maintenance, before returning to Gatwick on June 24. A Copenhagen to Southend service was then flown on June 28 under the command of Captain Ellis, prior to the aircraft flying on to Hurn with Captain Bellamy at the helm on the next day.
And so the summer settled into a pleasant routine of IT charter flights originating at Gatwick and Manchester, interspersed with ad-hoc charter assignments from other airports. New destinations encompassed Biarritz (July 8, August 5 & 19), and Dublin (July 13 & 15), while charters included a Heathrow to Milan service on July 5, a Hurn to Brussels overnight charter on July 20/21, and two freight services linking Nutts Corner Airport, Belfast, with Manchester on August 13 and 14.
A new pilot's name appeared in the Viking's log book on the morning of August 25 when Captain Ohlson flew G-AHPG from Gatwick to Rotterdam, and then on to Hurn. Another charter from Gatwick to Rotterdam took place on September 6, by which time the summer season IT charter programme was beginning to wind down. The final service to Perpignan was flown on September 10, followed by the last services to Nice on September 11 and Munich on September 12. An ad-hoc round trip charter from Gatwick to Marseilles followed on September 13, and this would be the aircraft's final commercial flight for Falcon. Following this flight a 40 minute long training sortie at Gatwick took place, before the aircraft departed to Hurn under the command of Captain Palmer.
Early on the afternoon of September 15 Captain W Bright fired up the Viking's pair of Bristol Hercules radial engines, and at three o'clock local time departed from Hurn bound for Rotterdam. G-AHPG would never return to the UK. Her subsequent flying career was akin to a "Boys Own" style action adventure, making a series of buccaneering flights into Africa in a lead in to the war raging in the Belgian Congo. Although she retained her basic Falcon livery, the aircraft began flying under the name of Canopus Airways – the name was probably taken from Kozubski's home near Bournemouth, which was called Canopus Court. She was flown in the Congo on behalf of Luxembourg Inter-Continental Airlines SA, a Brussels based company, continuing to fly even after her certificate of airworthiness expired on March 25 1961. At about this time she was sold to the South Kasai leader Albert Kalanji and given Air Sud Kasai titling. However, it appears that this gentleman failed to pay for the aircraft, and having been impounded by the Katangan authorities at Elizabethville in a United Nations led anti-smuggling operation, the aircraft was retrieved by a British crew comprising Captain G Bellamy and Mr T Cox on October 18 1961, and flown to N'dola, Northern Rhodesia, where she landed on one engine.
This aircraft never flew again, although she was cancelled from the British register on January 18 1962 as sold in Belgium. On September 2 1963 she was sold to Spiros Kalipolitis at a public auction for £900, and subsequently became a snack bar in Blantyre, Malawi.
The period between September 15 1960 and October 18 1961 was undoubtedly an exciting time for the old Viking. There may be readers of this story who could add further colour during this mysterious period, and we would be most interested to hear from them. The author can be contacted at editor@propliner.org.uk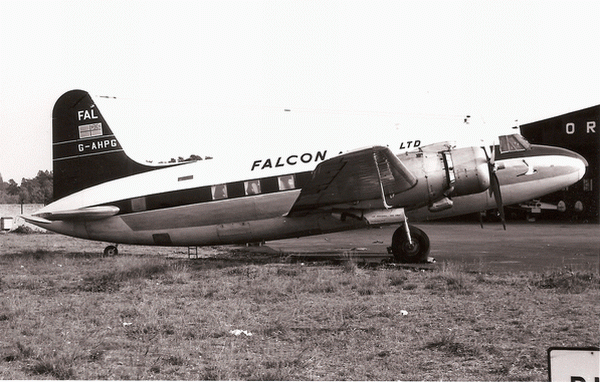 Falcon Airways Vickers Viking G-AHPG at Blackbushe Airport

'The Official
Website of
Propliner Aviation
Magazine'


The International review of
classic piston-engined and
turboprop transport aircraft