BLACKPOOL AIRPORT MOVEMENTS IN 1959
Blackpool (Squire's Gate) Airport has always combined an interesting mix of commercial and general aviation activities, with the airport today hosting commercial operations by several major carriers including Jet2.com and Ryanair, together with the rather more relaxed passage of both business and recreational types flown by Air Navigation & Trading, the Blackpool Air Centre, Westair and numerous other general aviation organisations. Air Navigation & Trading and Westair are two long-established operators that have grown with the airport, and during the last fifty years or so have seen many developments at this thriving hive of aeronautical activity.
While the movement of a jet aircraft fifty years ago would have been unheard of, the airport saw the arrival and departure of many an interesting commercial 'propliner' in those days. By 1959 the main airline serving Blackpool, Silver City Airways' Northern Division, flew passenger and freight schedules across the Irish Sea to Belfast, Dublin and the Isle of Man (Ronaldsway) with a variety of Bristol Wayfarers, DC-3s and Herons. Based at Blackpool, this division had its origins in the Lancashire Aircraft Corporation, which had pioneered passenger services across the Irish Sea with a wonderful array of piston-engined types including Rapides, Dakotas, Consuls and even a DH.86. Silver City's smartly attired blue and white Herons, DC-3s and Wayfarers gave the airport its commercial lifeblood alongside a gaggle of other local operators and a healthy amount of visiting charter aircraft.
1959 began with the departure of a pair of refurbished Skyways DC-3s on their way across the Atlantic to serve with Bahamas Airways at Nassau. Operation of the airline had recently been taken over by Skyways from BOAC, and the ambitious British independent was in the process of replacing the Corporation's aircraft with its own equipment. Thus, on the afternoon of January 1 1959 Captain Morgan flew DC-3 VP-BAH (formerly G-AOJI) on the first stage of her delivery flight to the Bahamas flying from Blackpool to Prestwick. A second example followed a fortnight later, when VP-BAA (formerly N222H), flown by Captain Merryfield, flew from Blackpool to Prestwick on January 16. Meanwhile, another Skyways airliner of a smaller variety, the Rapide G-AGOJ, landed at Blackpool on January 3 inbound from Stansted, probably carrying engineers or spare parts in connection with the overhaul of the Bahamas DC-3s.
Another de Havilland type to grace the Blackpool circuit was Eagle's Heron 1B G-APKW, which began a series of flights to the Gloster Javelin base at Middleton St George (later to become Teesside Airport) and the de Havilland headquarters at Hatfield on February 9. All flights were commanded by Captains Holmes or Peacock, and continued on a regular basis until February 27. Another series of flights connecting these airfields began on September 2 when Eagle Heron G-APKT resumed the operation. Again flown by Captains Holmes and Peacock, these flights continued almost daily until October 30, with a number of flights also being made to Leeming and Newcastle.
Although charter flights at the beginning of the year were scarce, February ended with an apron full of charter aircraft when the entire Pegasus Airlines Viking fleet, comprising G-AHOY, G-AHPL and G-AJBT, were joined by Derby Airways DC-3 G-AOGZ operating a round trip passenger charter from Luton on February 28. Starways C-54 Skymaster G-APIN spent three hours circuit training at Blackpool on the evening of March 19 under the watchful eye of Captain Leigh, before returning to her Liverpool base at the end of the sortie. She would return later in the year operating holiday flights from the airport.
By the end of March the first signs of another summer season were emerging, with Air Navigation & Trading's famous DH.84 Dragon G-ACIT taking to the air again on March 25 in anticipation of another season of endless pleasure flights carrying holidaymakers on flights around Blackpool Tower and over the many spectacles around the popular resort. Flights began in earnest on March 28, and were flown regularly throughout the summer months from mid-morning when the first customers arrived until dusk. At night flights would be offered over the Blackpool Illuminations, which would attract even more custom. Naturally G-ACIT was unable to cope with the demand single-handed, and Air Navigation & Trading first boosted its pleasure flying capability on May 15 when Rapide G-AJBJ was test flown by Captain Russell Whyham, followed by the second Dragon, G-ADDI, which took over the task from her sistership on August 22. Westair's Rapide G-AJKW was also a regular participant on the pleasure flying operation, together with a handful of other Rapides and light aircraft.
Luton Airways Rapide G-AIBB dropped in on a flight from her Luton base on April 20, while Derby's DC-3 G-AOGZ made her second visit of the year on the same day when she briefly stopped off en-route from Burnaston to Newcastle. Hunting-Clan's Viking G-AHPC undertook a Newcastle-Blackpool-Heathrow charter on April 24, with Pegasus Viking G-AHPL flying a Blackbushe-Blackpool-Prestwick service on the next day. Early season turbine highlight was the visit of Transair Viscount 804 G-APKG on April 26, undertaking a round trip charter from Gatwick, before returning on an identical mission on May 10. A trans-Atlantic passenger charter saw Independent Air Travel's C-54A Skymaster G-APID arriving from Blackbushe on the afternoon of April 28, with Captains Bamber and Bright leaving Blackpool at nine o'clock on the next morning bound for Keflavik on the first stage of her flight to the USA. The return trip was completed by Skymaster G-APNH on the evening of May 5, when she landed inbound from Gander.
Mike Keegan passed through the airport on the morning of May 13 flying his Airspeed Consul G-AJXE from the B.K.S. base at Leeds to his home town of Liverpool. With only a small number of Consuls remaining operational, it was encouraging to see this historic aircraft making a number of subsequent visits. Rapides were still abundant, however, with a 'new' example (G-AIUL) flown by Cumberland Aviation Services arriving from Silloth on May 13 for a morning's training.
Aer Lingus Viscount 808 EI-AJI arrived on the morning of Saturday May 16 to carry a group of pilgrims on a charter to Tarbes, with the same aircraft undertaking the return trip five days later. Aer Lingus also sent in their DC-3s to Blackpool on passenger flights from Dublin at the height of the summer, with EI-AHG operating the first service on May 30, followed by EI-ACE on June 7. Another Aer Lingus DC-3, EI-ACD, also appeared at the airport on June 10 when engine trouble forced her to divert whilst en-route from Manchester to Glasgow.
Starways launched its programme of inclusive tour charter flights from the airport on May 23. Initially DC-3 G-AMPY arrived from Glasgow with a party of Scottish holidaymakers aboard, who then transferred to Skymaster G-APEZ, which had ferried in from Liverpool, also taking on board a further party originating in Blackpool. At eight o'clock that night, under the command of Captain Van den Elst, the Skymaster departed to Palma. A fortnightly schedule to Palma and Perpignan ensued, with Skymaster G-APIN flying the route on June 6. Flights were also made to Pisa, with G-APIN operating the first service to the Italian resort on June 27. Flights were suspended at the end of the season early in October.
As the height of the summer season approached, the intensity and variety of operations seemed to increase, with the Isle of Man TT races at the beginning of June generating a new level of activity through the airport. North South Airlines Heron 1B G-ANCI arrived from Leeds on June 4, and on the next day operated a series of flights to both Ronaldsway and Jurby carrying passengers to the Isle of Man. Other aircraft visiting in connection with this historic sporting event included Rapide G-AHPT, which diverted in to Blackpool whilst en-route from Wolverhampton to Ronaldsway, and Luton Airways Rapide G-AIBB, another diversion, while flying from Birmingham to Ronaldsway. In spite of the two Rapides failing to land at Ronaldsway, the Air Navigation & Trading Dragon G-ACIT seemed to make the flight to the Isle of Man under the command of Captain Brian Bateson with no problems whatsoever!
And so the summer continued, with Channel Airways Dove G-APAG visiting from Ipswich on both June 22 and 24, and even the veteran Giro Aviation DH.83 Fox Moth G-ACEJ, flown by Captain Norman Giroux himself, dropping in from her base at nearby Southport on July 8. Braathens-SAFE DC-3 LN-SUK provided some welcome international representation on July 10 when she arrived from Newcastle and departed to Manchester. Yet another Rapide visitor saw the Christchurch Aero Club's example G-AKIF arriving from Christchurch and flying on to Silloth on July 15 in the hands of a young Captain John Pothecary.
All these operations took place during the never ending movements of the resident Silver City fleet, with Wayfarers G-AGVC, G-AIFV and G-AIMH, Dakota G-ANAE, and Herons G-AOZM and G-AOZN flying year-round schedules to Ronaldsway, Belfast (Nutts Corner) and Dublin. These flights were well supported, and the night time would see the operation of cargo flights, mainly carrying newspapers between Blackpool and Belfast, with particularly heavy loads on Saturday nights. A weekly seasonal service was also flown every Sunday to Ostend carrying tourists, together with weekend schedules to Jersey. Such was the pressure on the fleet during July and August that extra capacity was often chartered in from rival carriers – Starways DC-3 G-AMPO flew Silver City services to Jersey on July 25 and 26, while North South's Heron G-ANCI was noted flying services to Belfast and the Isle of Man on August 1, 3 and 7.
Silver City's Northern Division also undertook the overhaul of Wayfarers and Dakotas at its Blackpool base, and this led to a rotation of other aircraft at the airport. Lydd-based Wayfarer G-AHJI arrived for overhaul on October 12, departing again on November 19, while Dakota G-AIWC arrived from Lydd on October 30, returning to the ferry airport again on November 24 refreshed after another overhaul. Charter flights were also undertaken by these aircraft, with Dakota G-ANAE flying Ministry of Defence assignments from Leeming and Lindholme on September 10 and October 6 respectively. Both Herons were withdrawn from Silver City service at the end of the summer, with G-AOZM flying her final commercial service on October 23, and G-AOZN four days later when she operated a schedule from Ronaldsway to Blackpool. Both aircraft were given test flights by Captain Johnson on November 3, following which they were ferried to Ramsgate for storage on November 12 (G-AOZN) and December 10 (G-AOZM). Thereafter, Silver City supplemented its Blackpool-based fleet with further Dakotas, leading to the arrival of G-ALPN on November 18 and G-AKNB on December 11.
Ad-hoc charter flights passing through Blackpool at the height of the summer saw Independent Viking G-AJCE flying a service from Paris (Le Bourget) on July 29, Transair DC-3 G-AMRA hauling a consignment of newspapers to Nutts Corner on the night of August 15, while on August 20 Republic Air Charters Rapide EI-AKH flew a passenger charter from Dublin to Rufforth, clearing customs at Blackpool. She called again on the next day when poor weather and radio problems during the course of a Dublin to Cardiff charter led to the Rapide diverting to Blackpool, with the aircraft presumably unable to navigate across the Welsh mountains. At the end of September, Derby Aviation's Avro Anson G-AIPA arrived at Blackpool flown by Captain Bert Cramp on a series of aerial survey flights, departing to Silloth on September 29.
Late season visitors included Transair Viscount G-APKG from and to Gatwick on October 11, Tradair Viking G-AIXR on a passenger charter to Rome on October 20, and Orion Vikings G-AHOS and G-AGRS to Lyons on October 24 and 25 respectively. The latter day also saw the appearance of two Transair Viscounts, G-AOXV and G-APKG, together with Pegasus Viking G-AHOY inbound from Glasgow. Cambrian Airways sent in "Pionair" G-AMFV from Cardiff on October 31, while Tradair Viking G-APOR performed the return leg from Rome and Lyons on November 1. Transair Viscount G-APKG undertook a Blackpool-Gatwick-Toulouse passenger charter on November 8, on which day Pegasus Viking G-AHPL arrived from Jersey. The year ended with the arrival of Silver City Bristol Wayfarer G-AIFM inbound from Lydd on December 30, entering Northern Division service on January 3 1960 with a service to Belfast. But 1960 is another year……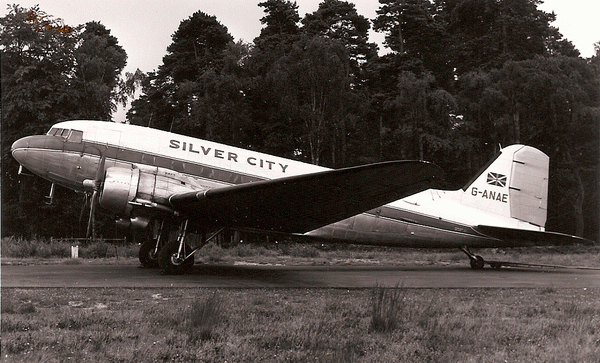 Former Lancashire Aircraft Corporation Douglas DC-3 G-ANAE resplendent in Silver City Airways livery

'The Official
Website of
Propliner Aviation
Magazine'


The International review of
classic piston-engined and
turboprop transport aircraft