WHERE SPORT AND COMMERCIAL AVIATION MEET
The conclusion of another Six Nations Rugby Championship has encouraged one patriotic Welshman to reflect upon those halcyon days when the Five Nations Championship would provide Cardiff Airport with its most colourful days of the year. Traditionally, the two matches that generated the most interesting movements were those when Wales played Ireland and France. If the venue was the Cardiff Arms Park, then there would be a flood of French supporters arriving from various French airports or an airlift of Irish supporters between Dublin and Cardiff. These operations would span several days before and after the matches, and would lead to a wealth of interesting aircraft arriving at Cardiff Airport.
Cardiff Airport was officially known in those early days as Glamorgan (Rhoose) Airport. Opened on April 1 1954, its main operator was Cambrian Air Services (later Cambrian Airways), and its two tarmac runways extended to 4,534 feet (04/22) and 3,700 feet (13/31). Early on there was also a grass runway, but by the early sixties all operations took place from paved surfaces. Whenever Wales were playing away in Paris, Dublin or Edinburgh, then Cambrian Airways would deploy several "Pionairs" on the rugby charters, conveying supporters in relays to the matches, and with the introduction of the first Viscount 701s in January 1963, the capacity of these airlifts was almost doubled. Further aircraft would also be chartered from other British airlines, notably Derby Airways and British Westpoint, and on occasions flights would also originate from Swansea Airport, situated further west along the Welsh coastline.
Cardiff's main runway was not suitable for anything much larger than a Viscount, and on occasions requests would be made to operate heavier aircraft into the nearby RAF station at St Athan, which boasted a 6,000' long runway and could accommodate all the 'propliners' of the day. Nevertheless, Cardiff was graced by a number of rather impressive airliners before the runway extension was opened early in 1970, with Air France most notably operating both Constellations and Super Constellations from the airport's original modest runway.
The 1959 airlift of Welsh supporters travelling to Paris for the France v Wales international was a fairly low key affair, with a rejuvenated Cambrian Airways flying ten round trips between Cardiff and Paris (Le Bourget) with "Pionairs" G-AHCZ, G-AMFV and G-AMJX on April 2 and 3, together with a lone Eagle Airways Vickers Viking (G-AHPM) which flew one service to Le Bourget on April 3. The following year would see the city of Cardiff invaded by parties of both French and Irish supporters, with the first operation being launched on Thursday March 10 1960 when no less than six Aer Lingus Viscounts (EI-AJI, 'JJ, 'JK, 'KK, 'KL & 'KO), one Aer Lingus DC-3 (EI-ACE) and two Aer Lingus Friendships (EI-AKB & 'KC) made fifteen round trips between Dublin and Cardiff conveying supporters. On the next day it was the turn of Cambrian Airways and Derby Airways who flew 21 round trips with "Pionairs" G-AGIP, G-AHCZ, G-AMFV & G-AMJX (Cambrian) and DC-3s G-AOGZ & G-APBC (Derby). Further flights to Dublin were made by Dan-Air DC-3 G-AMSU on March 11 and Eagle Airways Viking G-AHPM on March 13. The latter was flying one of the return trips are the match, and this operation also saw B.K.S. Air Transport DC-3s G-AMSH, G-AMVC & G-APPO plying between Dublin and Cardiff on March 13 and 14. Presumably these aircraft were in place of the Aer Lingus fleet, which failed to aspire to its pre-match performance. Indeed, on March 14 alone, no less than ten DC-3s were busy shuttling passengers between Dublin and Cardiff, comprising G-AMSS & G-AMSU (Dan-Air), G-AGIP, G-AHCZ, G-AMFV & G-AMJX (Cambrian), G-ANTD & G-APBC (Derby) and G-AMVC (B.K.S.).
Although the French match later in March generated less movements, the types used more than made up for the lack of movements. This operation began in grand style on March 24 when Air France Lockheed L-749A Constellation F-BAZO swooped onto the Rhoose threshold late in the afternoon inbound from Orly. Tradair Viking G-APOR, Independent Viking G-AJCE and Silver City DC-3 G-ANLF brought the next loads of fans two days later, accompanied by the UAT Nord 2502 Noratlas F-BGZG, which touched down at Cardiff shortly after ten o'clock on the morning of March 26 after a flight from Le Bourget, and the TAI C-54A Skymaster F-BDRJ, which landed inbound from Orly at midday, just hours before kick-off. The return flights utilised the same aircraft, with the exception that Air France L-749A F-BAZP undertook the return Constellation service to Orly on March 27. This aircraft may well have been carrying the French team.
Subsequently, with the Wales v France fixture taking place in Cardiff every other year, then there were bi-annual airlifts of French fans to Wales to cheer on their national side. Highlights of the 1962 airlift were Air France DC-3 F-BFGV on March 23, and Air France DC-4s F-BBDR & F-BHBX on March 24. The latter day also saw the arrival of Airnautic's beautiful Boeing 307 Stratoliner F-BELY, which damaged her tailwheel on landing, whilst Air France's L-1049G Super Constellation F-BHBJ became the largest aircraft ever to land at Rhoose when she arrived from Paris on March 25. Air France L-1049G F-BHBI launched the 1964 airlift when she arrived at Cardiff on the afternoon of March 19 inbound from Orly. She was followed on the next day by another Super Constellation (F-BGNF) and an Air France DC-4 F-BBDR. March 21 saw Cardiff Airport graced by leased Airnautic DC-4 F-BBDH, Air France DC-4 F-BIUT (which would later join Aer Turas as EI-AOR) and another Super Constellation (F-BHBB). Several of these aircraft made a number of round trips between Cardiff and Paris, and also to other French airports including Lyons and Marseilles.
The 1966 airlift saw further colourful types participating in this now established operation, with British Midland C-4 Argonaut G-ALHS and Channel Airways Viscount 707 G-APZB bringing French supporters into Cardiff from Bordeaux on the evening of March 25, together with Rousseau Aviation DC-3 F-BAXR inbound from Dinard. Perhaps the most interesting arrival was the Europe Aero Service Viking F-OCEU, which touched down at dusk inbound from Bordeaux, whilst F-BBBE, a DC-3 of Air France, concluded the day's activities when she touched down inbound from Le Bourget. On the next day further flights to Cardiff were made by G-APZB and F-BAXR, with Air France DC-4 F-BILL and Super Constellation F-BHBI also taking part. The 1968 airlift saw less activity at Cardiff, mainly due to the restrictive nature of its main runway. This led to no less than seven DC-6s operating into Lulsgate Airport, Bristol, on March 23 carrying supporters. The aircraft concerned comprised Transavia DC-6B PH-TRC, UTA DC-6Bs F-BGOB, F-BGSK, F-BGSL & F-BHMR, and Trans Union DC-6Bs F-BOEV & F-BOEX.
The last great 'propliner' airlift took place into Cardiff in March 1970. At this stage, although the new terminal and apron had not been opened, the subsidiary runway (13/31) had now been lengthened to 7,000 feet, and for the first time ever, Cardiff could accommodate all the big 'propliners' of the day. The problem of parking the armada that arrived in the days leading up to the match was solved by using the old runway. By the morning of Saturday April 4, Cardiff Airport resembled the truly international airport it has now become. Both Channel Airways Tridents had already staged through with their passenger loads, and although Air France had deployed three Caravelles on the operation, there was still much to tempt the 'propliner' fan. Three Catair L-1049G Super Constellations (F-BGNG, F-BHMI & F-BRAD) were all present, together with Donaldson Britannia 317 G-APNB, Britannia Airways Britannia 102 G-ANBO, Air Inter Viscount 708 F-BGNO, Europe Aero Service Herald F-BOIZ, South West Aviation DC-3 G-APBC, British Midland Viscount 815 G-AVJB, and Trans Union Douglas DC-6B F-BNUZ. This amazing collection of aircraft was completed late on in the morning with the arrival of another Trans Union DC-6A (F-BRID), which brought the last party of French supporters to the home of Welsh rugby.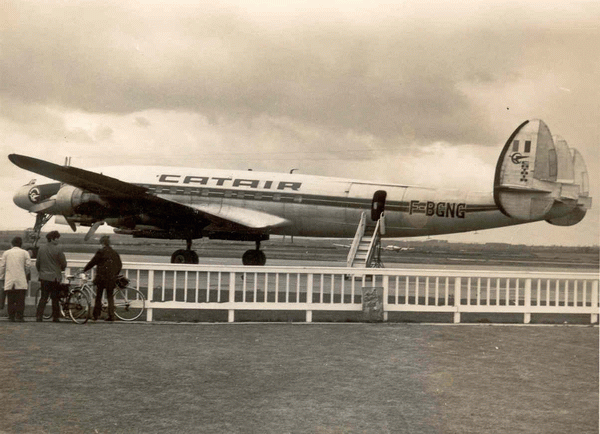 Catair L-1049G Super Constellation F-BGNG awaits the return of French rugby fans on the apron at Cardiff Airport on April 4 1970.

'The Official
Website of
Propliner Aviation
Magazine'


The International review of
classic piston-engined and
turboprop transport aircraft