FIFTY YEARS AGO AT SOUTHEND
The very first movement of 1957 took place just nine minutes into the New Year when Air Charter Douglas Skymaster G-AOFW took off from Southend on a direct flight to Malta, with her nocturnal departure no doubt effectively drowning out many a rendition of Auld Lang Syne! Two hours out from the airport she crossed over with fellow Air Charter DC-4 G-AOXK returning to Southend from Malta.
On January 3 LTU Viking D-ABEL made three round trip flights between Düsseldorf and Southend carrying 36 passengers on each leg, whilst Trek Airways Viking ZS-DNU departed to Barcelona with 32 passengers aboard, having originally arrived on Christmas Eve. Bristol Superfreighter G-AOUU was delivered to Air Charter on the afternoon of January 3, and she entered service three weeks later with the operation of a Southend to Ostend car ferry service commanded by Captain Eddie Roocroft on January 24. Another Air Charter aircraft making headlines was Mk.31 Freighter G-ANMF, which left Southend at midday on Friday January 11 carrying 1,400kg of cargo bound for South America. Piloted by Captain Nuttall, the aircraft made her first refuelling stop at Prestwick, and eventually returned to Southend on February 6 inbound from Keflavik.
Fred Olsen Douglas DC-3 LN-NAB flew in on January 15 with 19 passengers from Oslo, departing the next morning for Antwerp, while on January 16 Dove 5 PH-IOA cleared customs at Southend en-route from Hatfield to Lyons on delivery to Iran. Subsequently, several other Doves from this order also passed through Southend on delivery, including PH-IOG on January 24, PH-IOH on February 23, PH-IOL on March 13, PH-IOM on March 28 and PH-ION on April 5. Another Dove fresh off the Hatfield production line, G-AOZF staged from Hatfield to Bordeaux via Southend on February 7, at the beginning of a marathon delivery flight to Japan, where she became JA5038. Fred Olsen's DC-3 LN-NAB made another appearance on February 20 en-route Calais-Southend-Stavanger, with Trek Airways' Viking ZS-DKH dropping off six passengers at Southend on February 28 inbound from Le Bourget, before leaving for Nice with 27 passengers on March 2.
B.K.S. Engineering was busy throughout the period mainly working on Vikings destined for new operators in West Germany. Whilst LTU Viking D-ABEL arrived for a maintenance check on January 18, Flugdienst Viking D-AHAF (the former B.K.S. Air Transport G-AJBR) was test flown by Captain Ludbey on January 28, and delivered to Frankfurt two days later. Meanwhile, Viking D-AMOR arrived from Newcastle on February 2, and was delivered to LTU, again at Frankfurt, on February 13, having earlier served with Dragon Airways as G-AOCH.
Deliveries in the opposite direction saw a gaggle of former West African Doves arriving for Channel Airways, with VR-NET landing at Southend inbound from Bordeaux on February 16, followed by VR-NAJ on March 10 and VR-NIB on March 11. Former West African Bristol Freighter Mk.21 VR-NAA moved Channel Airways up a league on March 31 when she also landed at Southend inbound from Bordeaux at the end of her delivery flight from Lagos. An arrival for maintenance was Aerotec Douglas DC-3 F-BEFI, which came in from Le Bourget on March 12, and left again refreshed after her B.K.S. overhaul on April 20.
First ever Viscount to visit Southend, series 701 G-ANHE of British European Airways arrived from Heathrow at midday on March 1 under the command of Captain Johnson, and departed again for Heathrow three hours later. On the lighter side, Yeadon Aviation's Dragon Rapide G-AHKT, flown by Eric Dyer, passed through Southend on March 4 en-route from Leeds to Le Touquet. She returned via Southend northwards to Newcastle on March 9. Meanwhile, Airspeed Consul G-AIUH cleared customs at Southend on March 15 whilst staging outbound from Elstree to Düsseldorf for aerial survey work with Huntings.
The summer would bring even more colour to the scenery at Southend, and apart from the locally based aircraft flown by B.K.S. Air Transport, Channel Airways and Air Charter, regular visits would be made by LTU Vikings and a Bristol Wayfarer, Fred Olsen DC-3s and Viscounts, and a miscellany of other charter aircraft. The first signs of a bountiful summer season came on April 2 when Independent Air Transport's Viking G-AMNR arrived from Amsterdam. She flew a charter to Stockholm on the next day, with sistership Viking G-AJCE then dropping in on April 6 en-route from Hurn to Stockholm in the hands of the legendary Captain Marian Kozubski. Yes, Southend had plenty to offer in terms of 'propliner' activity fifty years ago.
To be continued……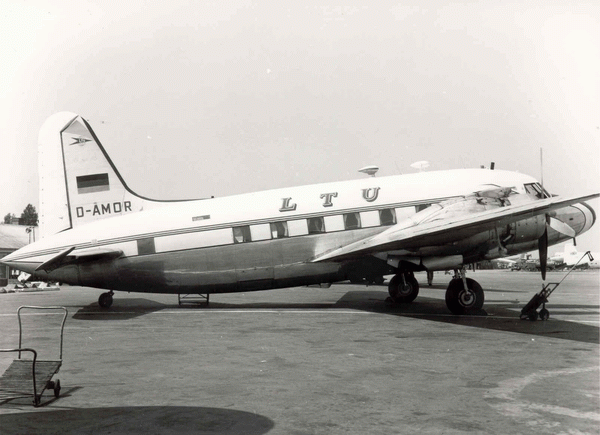 Vickers 621 Viking D-AMOR on the apron at Southend in 1957.
Photo via Peter R Keating.

'The Official
Website of
Propliner Aviation
Magazine'


The International review of
classic piston-engined and
turboprop transport aircraft