LONDON AIRPORT'S LAST RESIDENT PISTON-ENGINED AIRLINE
The Beech Expediter has always been a rare sight in British skies. Although flown by a number of air arms in Europe, the type has never seen extensive commercial operation here in the UK. This has not deterred a handful of airlines from experimenting with the aircraft, though, and perhaps the most famous and certainly the most adventurous undertaking was that of Sagittair.
Founded late in 1969 by Stephen Quinto, Sagittair initially planned to operate exclusive passenger charters from the UK to ski resorts in Austria and Switzerland. This type of work had been commonplace twenty years earlier in the UK when de Havilland Doves and Airspeed Consuls conveyed the rich and famous on charters to St Moritz from Croydon and elsewhere. But by 1969, passengers demanded greater comfort than that afforded by a Beech 18, and instead Sagittair chose to launch a regular freight service from London (Heathrow) Airport to Geneva carrying newspapers and items of general cargo.
Even by this time Heathrow Airport saw little regular piston-engined activity beyond a gaggle of night-time freighters, and no doubt the prospect of a new Beech 18 operation raised a number of eyebrows amongst the airport's executives. But Sagittair went ahead with its plans and acquired two Beech 18s in the USA and a third American-registered example already resident in the UK. On a cold winter's day early in 1970 the airline's first aircraft completed her ocean crossing when G-AXWL (c/n CA-167) touched down at Gatwick at dusk on February 7 inbound from Reykjavik. She remained at Gatwick for three days, and was then flown on to Ford Aerodrome in Sussex, where Miles Aviation would conduct an overhaul and prepare her for a new role as night freighter. A second Beech 18, G-AYAH (c/n CA-159), arrived at Gatwick on the afternoon of April 6 1970, again after an ocean crossing via Reykjavik, and she flew on to Lasham for overhaul on April 14.
While Sagittair's pair of Beech 18s were being smartened up before taking up residence at Heathrow, the airline was awarded a contract for the carriage of newspapers each night to Geneva, and in an effort to launch this service as quickly as possible acquired an American-registered example already based in England, N15750 (c/n A-850), and leased N495F (c/n AF-888). The former aircraft had once flown briefly as G-ATUM, but when hired by Sagittair was being flown from Coventry by a company named Aviation Enterprises. This aircraft would have the honour of flying Sagittair's inaugural service, and having been ferried to Heathrow, this aircraft began scheduled operations to Geneva on May 27 1970, although several flights in advance of this date were made, with N15750 flying a Heathrow to Geneva service on May 23, which diverted in to Southend on the return leg, before flying on to Gatwick, and eventually returning to Heathrow on May 24.
In addition to the night time runs to Geneva, Sagittair also undertook a number of ad-hoc charter flights, with N15750 being called upon to carry freight from Brest to Southampton on June 18 during a national dock strike. The other American-registered Beech 18, N495F, was only used for a brief period during the summer of 1970, with this veteran also enjoying some ad-hoc charters, including a round trip assignment between Heathrow and Belfast (Aldergrove) on July 19, and a Benbecula-Stornoway-Aberdeen-Alesund (Norway) charter on August 7 1970.
The first of Sagittair's British-registered Beech 18s entered service following the award of the C of A to G-AXWL on June 19 1970, with the aircraft undertaking crew training at Stansted and Gatwick on June 30 before flying on to Heathrow. Apart from the night time Geneva run, the Beech 18s continued to undertake a stream of ad-hoc work. In line with so many airlines of the era, Sagittair regularly benefited from car part charters, shuttling spares between Europe's many car plants. One of the first of these flights took place on August 26 1970 when G-AXWL, commanded by Captain Hunter, carried 289kg of Ford components from Southend to Saarbrucken. Other British airports enjoying visits from these classic aircraft included Birmingham, which hosted G-AXWL on a training sortie from Heathrow on October 28, and N15750 on a round trip charter from Heathrow on December 16, whilst on October 8 G-AXWL had flown a Bournemouth to Newcastle charter.
Taking into account the almost grandiose nature of Sagittair's operating platform, Heathrow Airport accommodated the daily movement of the Beech 18s with remarkable ease. With most flying taking place at night, the aircraft could be slotted in amongst other traffic with few problems, and what had initially appeared as rather a gamble, turned out to be a successful undertaking.
A year into the Beech operation, Sagittair upgraded its fleet with the acquisition of several Argosy freighters, which were based at Castle Donington. Their introduction did not lead to the immediate retirement of the Beech 18 fleet, though, which continued to ply regularly through Heathrow. Indeed, a new venture saw the aircraft flown on behalf of By-Air at Norwich, with G-AYAH arriving there on July 7 1971 to begin freight charters in support of the blossoming oil-rig support industry. This arrangement only lasted for two months, however, due to the cessation of By-Air operations in September. One of the last flights was a Norwich to Aberdeen charter flown by G-AYAH on September 2, following which she ferried to Heathrow.
In spite of this setback, Sagittair's Beech 18s remained active for most of 1971, and charters during the latter half of the year saw G-AXWL flying an early morning Southend to Brussels cargo service on July 1, a Dublin-Birmingham-Cherbourg service on July 15 as "SS012", and a Heathrow-Glasgow-Prestwick sortie on July 24. August saw the carriage of a one-ton load of automotive components from Brussels to Southend aboard G-AXWL on August 27, while commissions in the following month saw sister Beech G-AYAH undertaking two flights from Cardiff carrying Ford car parts to Antwerp and Saarbrucken on September 9 and 15 respectively.
By the end of October the Beech 18 operation was winding down, and one of the last charters saw G-AYAH flying a Newquay (St Mawgan)-Gatwick-Heathrow service on October 30. With flight crews now being transferred to the Argosy fleet, which was generating a wealth of interesting work, the Beech 18s fell from favour, and all commercial flying had ceased by December. N15750 and G-AYAH were flown into storage at Lasham, while G-AXWL moved to Castle Donington, where she was registered N6685 during 1972. G-AYAH was sold to Shackleton Aviation and flown to Coventry for onward sale on March 18 1972, while N15750 remained in the UK and continued to fly for a decade or more based at Cranfield.
Although brief, the Sagittair Beech 18 era was perhaps one of the last truly entertaining, if slightly offbeat, performances to take place in London Airport's increasingly uniform and rigid environment. Movements may have proven a minor irritant to other more sophisticated regimes, but the colour, charisma and spectacle generated by the arrival and departure of another enchanting Sagittair Beech 18 was surely worth any amount of disruption caused to the smooth running of this great airport.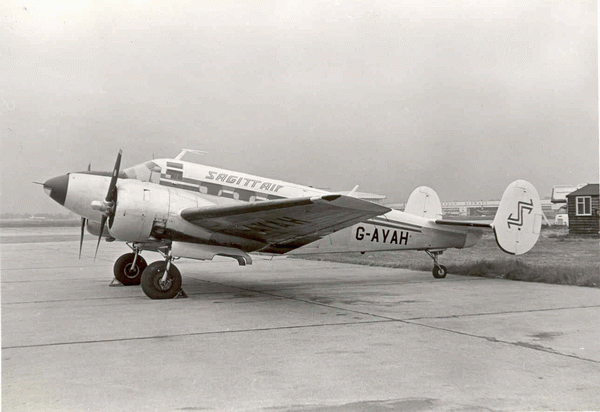 Sagittair Beech 18 G-AYAH in between flights at Heathrow Airport.

'The Official
Website of
Propliner Aviation
Magazine'


The International review of
classic piston-engined and
turboprop transport aircraft